Sixth Form Overview
Welcome
We would like to wish a very warm welcome to all students, and their parents and carers, who have chosen to pursue their sixth form studies here at Colyton.
Our sixth formers have established a long tradition of success at A-Level and in going on to highly aspirational futures beyond school. We believe strongly in the importance of a supportive & friendly environment as a basis for this success and think it important that we share with you our aims and values as a sixth form.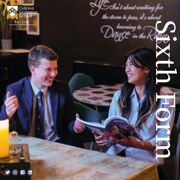 Click here to view the Colyton Grammar School Sixth Form Prospectus
Sixth Form Entry Key Dates
| Date | ACTION |
| --- | --- |
| Friday 11 November 2022 | Online application form available on website: |
| Thursday 17 November 2022 | Sixth Form Open Evening |
| 31 January 2023 at 4.00pm | Application round closes. The application round is now closed. |
| Wednesday 31 March 2023 Conditional offers / decisions communicated to applicants by this date | Applications open |
| August 2023 GCSE Results Day | Sixth form places confirmed |
| Day After GCSE Results Day | Programme enrolment |
Preparation for sixth form
While we do not wish to overwhelm anyone with work, we do feel there is an excellent opportunity to make a head start on your sixth form and A Level studies.
Contained within the guide is a number of:
Suggested reading material
Suggested introductory tasks
Suggested enrichment material
For each A Level subject.
Click here to open the 'Preparation for Sixth Form Study' Guide
Sixth Form Library
The Library is fully accessible for sixth form students, with a dedicated silent sixth form only study room. The Library has a flexible environment that supports silent study, quiet and comfortable reading, and class activities and lunchtime events.  
It is well equipped with journals, books and online newspaper subscriptions. Our print collection consists of over 18,000 titles, including modern fiction, classic novels, subject materials, and a careers library. 
 We subscribe to a wide range of specialist journals and magazines, including GCSE and A Level Reviews, the New Scientist, BBC Music, History Today, and daily newspapers (funded by the CGS Parents Association).  Our digital subscriptions include JSTOR, which is a digital library of articles, books, and primary sources, and a growing collection of ebooks and specialist material to support all areas of learning.
You will find all the details through the library's online catalogue, which is also available as an Library App. 
Mrs Cox, our Librarian is available to support students through researching, referencing and exploring academic databases. We provide support and guidance on research and referencing skills for sixth form and EPQ students.