Colyton Baccalaureate
In becoming a sixth former at Colyton, you will benefit from the school's long-standing, national reputation for excellence. This reputation has been created by generations of students whose personal qualities have impressed employers and universities alike. Our students leave us having fostered an extremely constructive set of skills around the way they approach learning. They show initiative, self-motivation and community spirit. Not only will you benefit from the reputation your predecessors have established, we know that when you are ready to leave us, you yourselves will be ambassadors for those generations of sixth formers who follow.
As a way of formally recognising the wealth of talent and character our students show, we have developed our own baccalaureate, the Colyton Baccalaureate. We expect all of our students to achieve this award which comprises of three A-Levels, an extended project qualification and evidence of personal insight and development.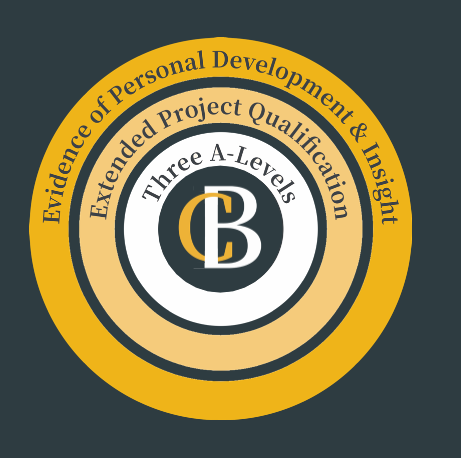 Personal Insight and Development
As a sixth former we encourage you to be reflective:
What makes you tick?

What inspires and  motivates you?

What would you like your future to be?
Action planning is a formal part of the curriculum and as a part of this personal insight we ask you to reflect and give a honest evaluation of where you are at key stages in your development. This will help you to give a clear appraisal of the opportunities and challenges that lie ahead for you.
It is not just about your academic progress, but your development as a person.
We hold an annual event 'Head Start' for year 12 which includes:
Understanding core values,

Personal development

Presentation at work

Networking
This is delivered by our wonderful school community of parents, alumni and trustees.
Extended Project Qualification
As part of our programme we also expect students to take the Extended Project Qualification (EPQ). The EPQ is valued by universities as it develops so many of the skills that are required for successful undergraduates: research, project-handling, referencing and the presentation of complex information. It allows students to give clear evidence of enthusiasm in a chosen subject when writing their university applications and in interviews. The value of the qualification is evident in the fact that universities often give alternative offers to applicants who are doing it. It also carries greater weight in terms of the UCAS tariff than an AS-Level. Pupils, particularly in the Sixth Form, delight in asking questions, sharing their views and 'sparring' through discussion and debate.
'They relish the good-natured academic challenge and enjoy such exchanges.' OFSTED 2020

Why we chose to study the EPQExtended Project at Colyton
A Level Subjects
The Sixth Form Library
The school library offers a variety of resources and activities. Our print collection consists of over 18,000 titles, including modern fiction, classic novels, subject materials, and a careers library. We subscribe to a wide range of specialist journals and magazines, including GCSE and A Level Reviews, the New Scientist, BBC Music, History Today, and daily newspapers. Our digital subscriptions include JSTOR, which is a digital library of articles, books, and primary sources, and a growing collection of ebooks and specialist material to support all areas of learning. You will find all the details through the library's online catalogue, which is also available as an app.
An overview film of the Sixth Form Library
The library has a flexible environment that supports silent study, quiet and comfortable reading, and class activities and lunchtime events. We provide support and guidance on research and referencing skills for sixth form and EPQ students, and digital and information literacy skills for junior students. The library hosts several clubs including a student librarian group and a Carnegie Medal shadowing club. We run regular competitions and events including the Harry Potter Book Night, World Book Day, book fairs and literary quizzes. Our SharePoint page provides full details of all library news, subscriptions, activities, reading recommendations and topic resources.
Discover ebooks, digital resources, subscription details, and literary supplements through the Library SharePoint page.